Wheel Machining
California Wheels is passionate about custom wheels, and dedicated to serving people just like us – people just like you. Nobody knows how to fit your custom wheels better than California Wheels. In fact, few shops even have the right combination of specialized equipment and experienced professionals needed to do so. Rest assured, you've come to the right place. California Wheels has the expertise and machinery to ensure the perfect fit, every time.
With so many sizes, bolt patterns, offsets and dimensions of wheels, and just as many variations in cars, it's critical that you work with a shop that has the experience to know what will and won't work for your specific application, and the tools to make sure the job is done right.
California Wheels' San Jose shop has state of the art wheel machining equipment in house, so we can provide services that other shops simply can't offer. Rather than only stock wheels in standard sizes and just "hope it works" like other shops might, California wheels specializes in blank wheels ready to be drilled and machined to fit customized applications.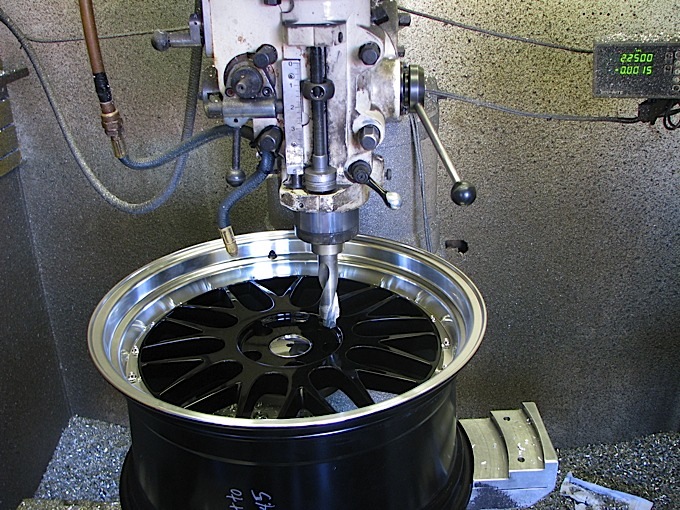 In addition to drilling blank wheels, California Wheels offers an array of other wheel machining services including: opening the center bore, wheel shaving, inserting and fill and drill.


Using the fill and drill technique, California Wheels can change the existing bolt pattern on wheels, for example, taking a wheel from a six lug pattern to a 5 lug pattern, or vice versa, and still maintaining a clean, factory new look with the ride integrity and safety designed your car. We can open center bores, change offsets by shaving the back of the wheel, and create custom fit applications that weren't originally intended for the wheels. Further, we can custom make hub-centric spacers, rings and adapters all to ensure the perfect fit for your car. Want to go down and out with a wide and low, aggressive stance? California Wheels can create the custom stance set up you have in mind. No matter what the application, California Wheels' in house machinery and skilled technicians can create the specialized look you're after.


Why would you want to risk going to another shop that only offers a limited inventory of pre-drilled wheels that won't fit your car correctly? Who would want to deal with associates working at "just another job" who don't have the knowledge or experience to fit your rims the right way? Save yourself the hassle of having to deal with poorly fitted wheels that constantly rub your fender wells and cause problems with the ride of your car.
Come in to California Wheels and shop with confidence. We have the equipment to create the custom fit you are looking for, and the knowledgeable professionals to make sure it's done right.